safedrop v2 – a simple secure way to share files with complete control, and NO PASSWORDS!
Share large & sensitive files
GDPR compliant
Messages expire or self destruct
Each safedrop has its own URL, you share it by email, social media, text, whatever
Email tokens for recipient verification – no passwords
Click here to get on the waiting list for early access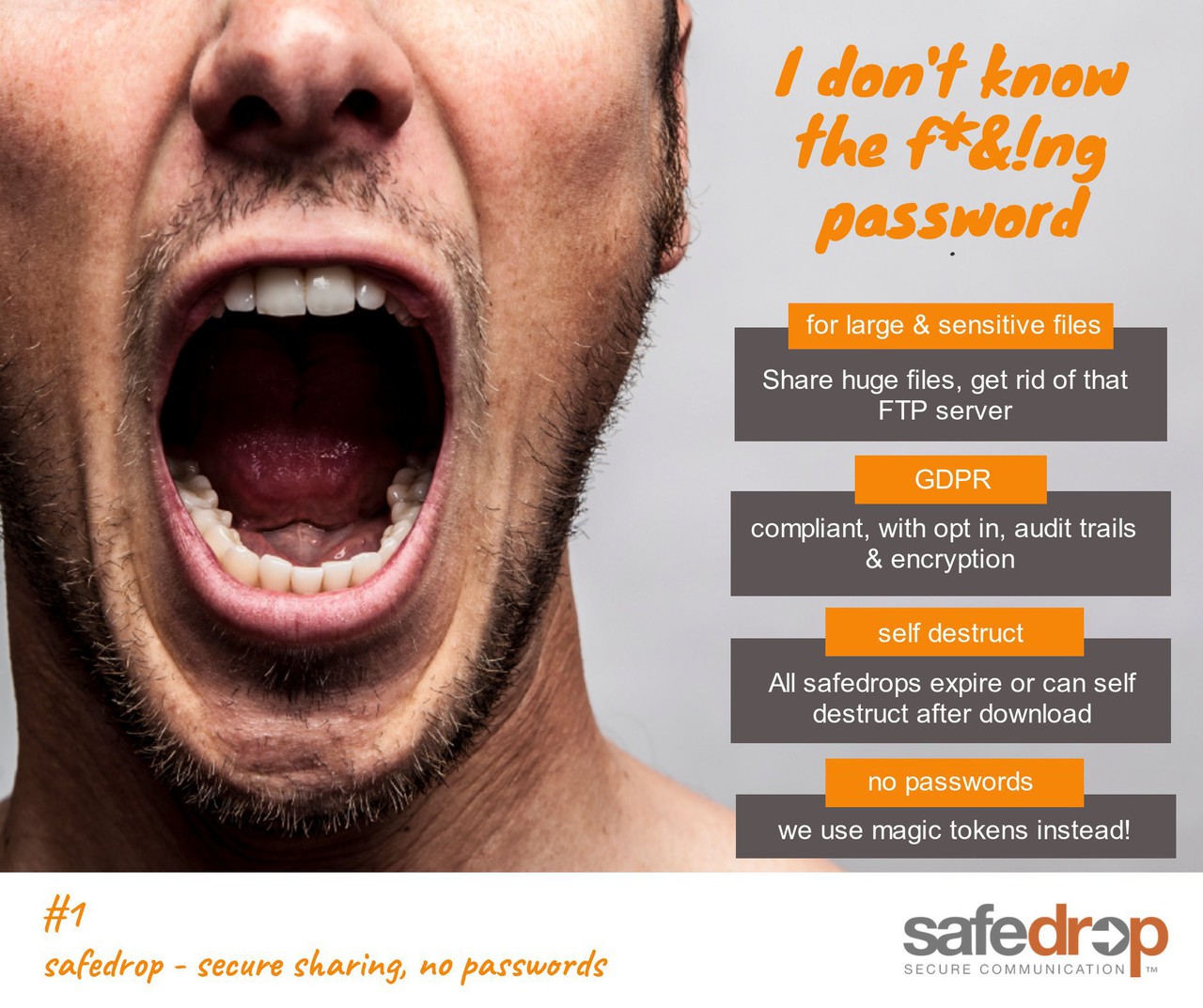 safedrop lets users send audited secure messages & files to anyone with an email address.
Regulated businesses need the security features, which include: recipient verification, customisable terms of use, read receipts (yay!), expiry receipts, full audit trails, encryption and self destruct after delivery.
Recipients do not need to signup for an account, which can save a lot of pain.
No password?
To view a safedrop, you click it's address link. We then send you an email with a magic link which is valid for a few minutes. Click on the link and get your files.
The link expires after a short amount of time.
The link can only be used once.
The link only allows you to download from one safedrop
Read receipts and more
Track everything. You can a read receipt when the safedrop is viewed, and when it expires you get a full summary by email, showing who looked, who didn't, and what they saw.
Techy stuff
Each safedrop message has an enforced expiry date, after which it is removed from the server. A self destruct option is ideal for maximum security – after a message has been downloaded, it is deleted.
To ensure GDPR compliance each delivery asks the users to accept a set of terms of use, that you control.
We automatically scan for viruses, and can enforce black lists – where any content with blacklist words is automatically quarantined.
safedrop is ideal for sending large documents (up to 5Gb) with guaranteed delivery, and for sensitive information, with all information encrypted at all times.
safedrop is operated by Projectfusion. We have been providing secure collaboration since 2001, and are an ISO27001 accredited company. Everything is hosted in the UK, where the help desk offers a 2 minute in app response time.
Click here to get on the waiting list for early access
API & Integrations
Unlike most cloud services, this service can easily be self hosted making it ideal for the most sensitive files. Or use our simple Rest API to integrate with your intranet or DMS – giving you a state of the art hybrid cloud / on premise solution for file sharing.
Integrations include: Alfresco (now), iManage (March), Projectfusion (March), Visual Files (March).
FAQ
What if I send the safedrop to someone else?
Each safedrop can be locked to a list of email address. Only people with those emails can get the files
Whats the maximum file size
5Gb for one file.
How does self destruct work?
With self destruct, each recipient can only download safedrop files once. When all recipients download a safedrop it is removed from our server. Ideal for super sensitive files.
Terms of use?
Recipients have to accept your terms of use before viewing the safedrop. These terms typically include a clause to state they agree to their viewing being tracked – this is important for GDPR compliance.
Availability
Enterprise editions available now, SME edition March.
Price
From £40/user per year.